For those familiar with the Sectretos food truck around the Burgh, you'll be happy to know the owners have expanded the concept into a restaurant in downtown. Located behind PPG Paints Arena, the restaurant opened to the public last fall.
Secretos de mis Abuelos is the first authentic Puerto Rican food truck and restaurant in Pittsburgh. The unique concept offers authentic Puerto Rican meals, desserts and ala carte options.
I headed in for lunch earlier this week, thanks to an invite from the Yelp Elite team (yes, I'm a new Elite member in Pittsburgh!). When you open the doors to the restaurant, you'll see beautiful murals and artwork through the place – giving a nod to the culture and Puerto Rico.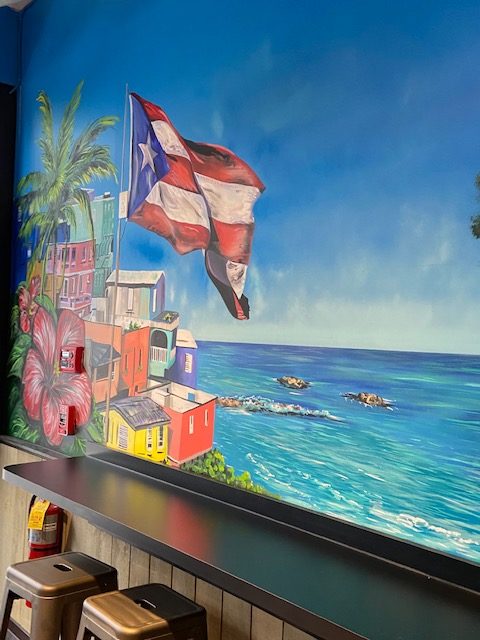 Build your meal in just three steps:
Choose your base (white rice and beans; yellow rice and peas; or fried and mashed plantains)
Pick a protein (chicken, fried pork, pulled pork, shrimp or chimichurri steak)
Select a side (sweet or savory plantains; root fries; or a side salad)
These meals start at $14. Shrimp and steak cost a few bucks more. Guests can also swap the protein option for avocado to make it vegan. Additional entrees are available to order, such as the three-meat sandwich. As for sides and desserts, guests can order fried empanadas, beef potato balls, flan and tres leches.
I don't get enough plantains options in town, so I was happy to see it on the menu here – both baked and fried. Both were delicious, and I would order extras on my next visit! The chimichurri steak was cooked to be tender and so flavorful. I love chimichurri sauce, so I dipped my steak in this heavily! The yellow rice was a nice touch out of my usual rice habits (mostly Basmati if I'm cooking at home).
My dining buddy tried the chicken with the white rice and beans, which is also packed with flavor. The portion sizes are large, and the meat seemed like a lot – which makes up for the cost of these entrees. Next time I need to try the beef and chicken empanadas! Well, it's a good thing Secretos is located near me. 🙂
Address:
1334 Fifth Ave
Pittsburgh, PA 15219
Hours:
Wed: 11am-7pm
Thurs: 11am-7pm
Fri: 11am-7pm
Sat: 1pm-7pm
Sun: 1pm-7pm
Disclaimer: My menu was complimentary thanks to Yelp Pittsburgh, and all opinions are my own.