Pittsburgh is now home to the newest Live! Casino in Greensburg, PA – about 45 minutes from downtown.
The new casino features about 750 slot machines, popular tables games, online games and FanDuel Sportsbook. Plus, parking is free!
Within the casino sits several dining and bar options including Guy Fieri's Kitchen & Bar, PBR Pittsburgh and Sports & Social Steel City.
We were invited to a dining experience at Sports & Social Steel City. This restaurant is located on level 2 of the casino (right next door to PBR Pittsburgh) and boasts an array of interactive games, made-from-scratch fare and a large list of beers, specialty cocktails and more drinks. This restaurant is nonsmoking and family friendly. It also makes for a for a great night on the town with friends!
The restaurant overlooks the first level of the casino bar, and the seating by the rail offers patrons a fantastic view of sports on multiple large TVs, including a 40-foot high definition LED TV. It's obvious sports fans from the Burgh NEED to go here!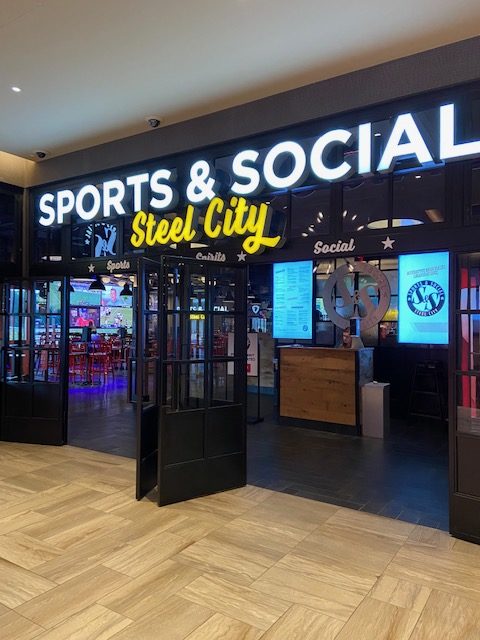 How awesome is this view?? We watched our favorite college football teams across the screens.
Enjoy playing games with your guests – from bowling to foosball, arcade basketball and more…. don't miss the golf simulator too!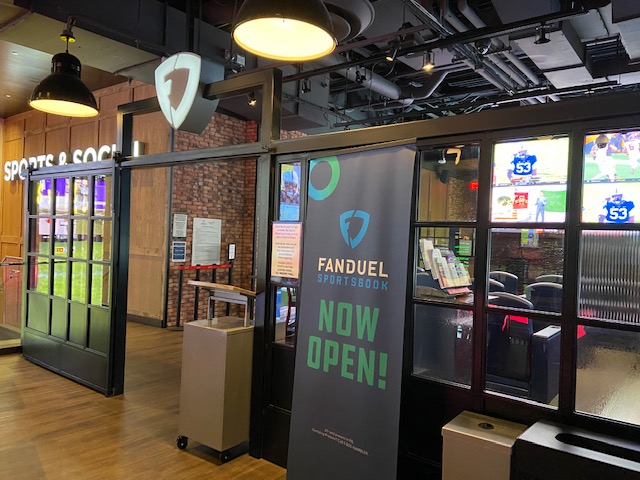 The FanDuel Sportsbook lounge within the restaurant offers a more private place to relax on comfortable leather seats while watching sports and making bets on the FanDuel app.
Now, with great games and entertainment comes even more great food and drinks.
The bar serves up over 10 craft cocktails, draft beer featuring brews from Pittsburgh's own Southern Tier, as well as bottled and canned beer. The specialty drinks were my pick with the refreshing and not so much Tiki Gods (which is served in a glass Tiki cup), and my friends opted for seasonal Southern Tier beers.
The menu focused on elevated American fare from flatbreads and savory wings, larger than life sandwiches and burgers, plus Pittsburgh influences like pierogis and buffalo chicken quesadillas.
Pictured from top to bottom: Southwest Chicken Flatbread, Pierogis stuffed with cheese and caramelized onions, Spinach and Artichoke Dip that's made in house and served alongside grilled flatbread and tortilla chips. The portions are very shareable, too.
Nashville Hot Chicken Sandwiches are making their way around the Burgh, and this one was large, juicy and full of flavor and heat. The heat of the sandwich comes from the Nashville-style spices and is balanced out with coleslaw and pickles.
A big burger is what I'm here for, yinz! The French Onion Burger caught my eye on the menu because of its uniqueness. I love French Onion soup so thought why not try the burger version?! The caramelized onions and Gruyere cheese melted in my mouth, and the burger was juicy and tender. I also loved that the burger was served on a brioche bun. I will be going back for this burger !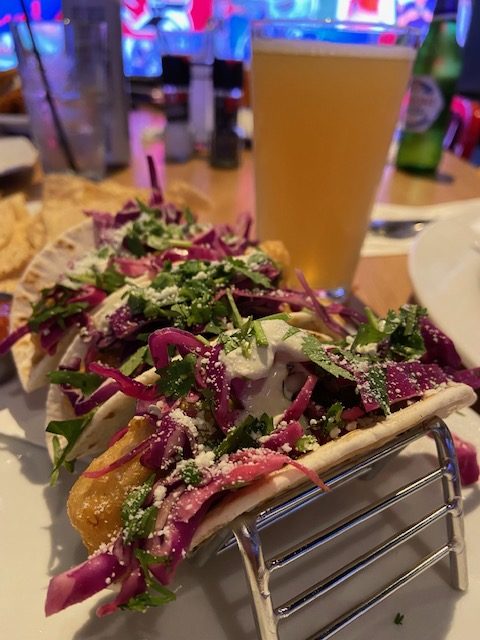 Some other handhelds on the menu included this tasty Tempura Mahi Fish Tacos. Served in batches of three, it's a bit lighter of an option on the menu, and comes with chips and salsa on the side.
For dessert we shared the Salted Caramel Skillet Cookie. Served hot and topped with vanilla bean ice cream and caramel sauce, this sweet cookie was filled with toffee and Heath bar pieces. It was the perfect component to wrap up our meal. (I see they have donut holes on the dessert menu too…. sounds like my next pick!)
Check out these weekly offerings at Sports & Social Steel City:
Taco/Trivia Tuesdays, 8-11pm
The winning team receives a $100 Sports and Social Steel City Gift Card for their next visit. Enjoy $2 tacos (chicken, pork and beef), $20 Margarita Pitchers, $20 Domestic Beer Buckets, $3 Miller Lite Drafts and $4 Margaritas.
Happy Hour – Mondays through Thursdays, 5-7pm
$4 domestic beers, $5 cocktails, $6 wines and discounted select appetizers, plus half-priced arcade games
Industry Night – Mondays, 8pm – midnight
Discounts available for Bar, Restaurant & Hotel workers. Must show pay stub or industry card.
Brunch -Saturdays and Sundays, 11am – 2pm
Order from a variety of breakfast staples, plus drinks like a 32 oz beer mug, 50 oz pitchers of brunch cocktails, plus a build-your-own Bloody Mary bar.
Learn more about Sports & Social Steel City here.
Live! Casino is located 5260 Route 30 Greensburg, PA 15601.
(Disclaimer: My preview of the restaurant was hosted, and all opinions are my own. Please gamble and drink responsibly.)