Seen by 2M+ people in Paris, the Immersive van Gogh Experience is now open in Pittsburgh! Lose yourself in 500,000 cubic feet of monumental projections animating Vincent van Gogh's masterpieces.
His artwork comes to life as you walk through the exhibit room and see the moving images on the walls around you. I felt like I actually stepped inside of his paintings! So much detail was put into the videos, like animated brushstrokes, pops of color and smooth transitions of night scenes and sunny portraits. Comfortable, padded benches are put throughout the room so feel free to take a seat and enjoy the 35-minute loop of animated art. And, you can stay as long as you'd like!
The installation includes the Mangeurs de pommes de terre (The Potato Eaters, 1885), the Nuit étoilée (Starry Night, 1889), Les Tournesols (Sunflowers, 1888), and La Chambre à coucher (The Bedroom, 1889), and much more.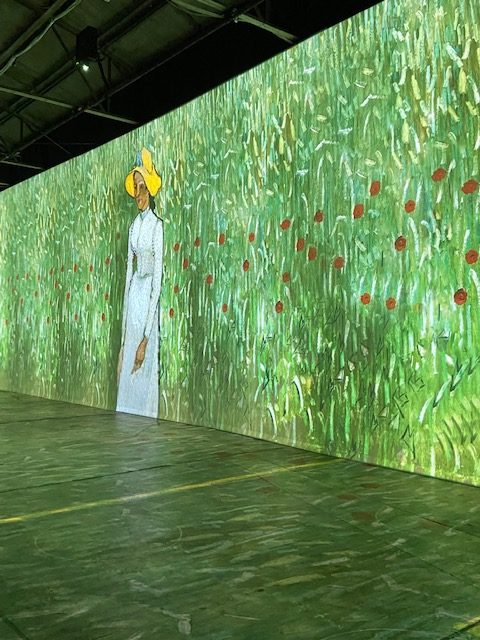 Yinzers are going to love the Pittsburgh themes around the exhibit hall.
Check out the gift shop on your way in or out. Take some of the masterpieces home with you!
The exhibit is designed and conceived by Massimiliano Siccardi, with soundtrack by Luca Longobardi.
See van Gogh's work in an unforgettable new way with digital art! Tickets are available now, and the exhibit runs through February 2022.
Address: 720 E Lacock St (in Pittsburgh's North Side neighborhood)
(Disclaimer: I attended a preview of the exhibit, and all opinions are my own.)